Derek Bieri, popularly known as Vice Grip Garage, is an American Classic car enthusiast and YouTube personality who is recognized for his content on the Vice Grip Garage channel. His videos mostly include tips on budget builds, automotive restoration, vehicle rescues, and how-to's in simple layman's terms. His channel is dedicated to salvaging and resuscitating anything with wheels.
 If you love watching old, rusty, and ramshackle cars get revived and turned brand new, then you might have probably known Vice Grip Garage. Most of those cars have been driven or dragged to a permanent resting place and forgotten. But Derek respects the story behind every old car and wants to give them a brighter future after a long history of neglect.
The main strength of 'Vice Grip Garage' is Derek's willingness to tackle a challenge without a script or hauler trailer when he rescues a forlorn old vehicle. He doesn't travel with a safety net crew like a few other car guy adventure shows. 
Derek was born on May 16th, 1984, in Minot, North Dakota, USA, and grew up on a farm in the remote countryside of North Dakota where times could get tough, so he learned his skills from his father and grandfather over the years. Though he is not a certified mechanic, he picked up over the years while watching them work.
He recalls watching his father, grandfather, and uncles working on the farm and ranch, making things work with what they had, and very rarely opting to buy new parts. He is considered to be an "old school" mechanic, too, as he relies on his senses more than any new gadgets or expensive tools.
He apprenticed under Roger Zweifel, working his way through school, building and/or restoring hundreds of 40s-60s hot rods and classic cars. Even to this date, Derek still has no official mechanical certification. This old-school DIY mechanic is a husband, father of 3 boys, and is also known for Motortrend. He started the 'Vice Grip Garage' channel out of his passion for saving classic automobiles and muscle cars and sharing his experience working in the automotive industry.
Name

Derek Bieri
Nick Name
Derek
Gender
Male
Profession
Classic Car Enthusiast, Youtuber, Director, and Digital Content Creator
Personal Life
Date of Birth
16 May 1984
Age (as in 2023)
39
Zodiac
Taurus
Nationality
American
Place of Birth
Minot, North Dakota, USA
Currently Lives in
Tennessee, USA
Ethnicity
Caucasian
Religion
Christian
Physical Stats & More
Height (approx)
in feet inches - 5 '11"
in centimeters - 180 cm
in meters - 1.8 m

Weight (approx)
in kilograms - 72 kg
in pounds - 159 lbs
Eye Colour
Brown
Hair Colour
Brown
Tattoo(s)
No
Family, Relationship & More
Relationship Status
Married
Girlfriend / Wife
Jessica Bieri


Image Credits: Derek Bieri's Instagram

Children
Three Kids
Affairs / Past Relations
NA
Net Worth (approx)
$ 1-2 Million
E-mail
[email protected]
Address
Po box 2088, Lewisburg, TN, United States
Before becoming a full-time YouTuber, he was a successful C-level officer (former US veteran), President or owner of multiple companies, and is considered to be a "street smart" entrepreneur from a young age. 
Derek changed up his game a little when he purchased a 1956 Buick Special two-door hardtop, a car with its special links to his family. It took Derek over a decade before he was finally able to track down this family legacy Buick in Texas. He owned the car before he sold it to its former owner, and Derek's late father owned the Buick before him.
The car became an important part of the Bieri family legacy over time. It was the first car that he could recall from his childhood, and he remembers many personal experiences as a kid when it came to the '56 Buick. He remembers his dad painting the car in a dirt floor garage while Derek did circles on a plastic trike in the same building. His father was doing a hurry-up paint job because the car needed to look good for a parade the next day.
While their family excursions in the Buick with his dad behind the wheel and the only low gear available in the Dynaflow automatic transmission. He said that the car could only hit about 30 mph during the trips, but as he had hands-on experience with vehicles over the years, he was able to improve the Buick until an untimely fire occurred shortly before its complete restoration, and he was forced to sell it.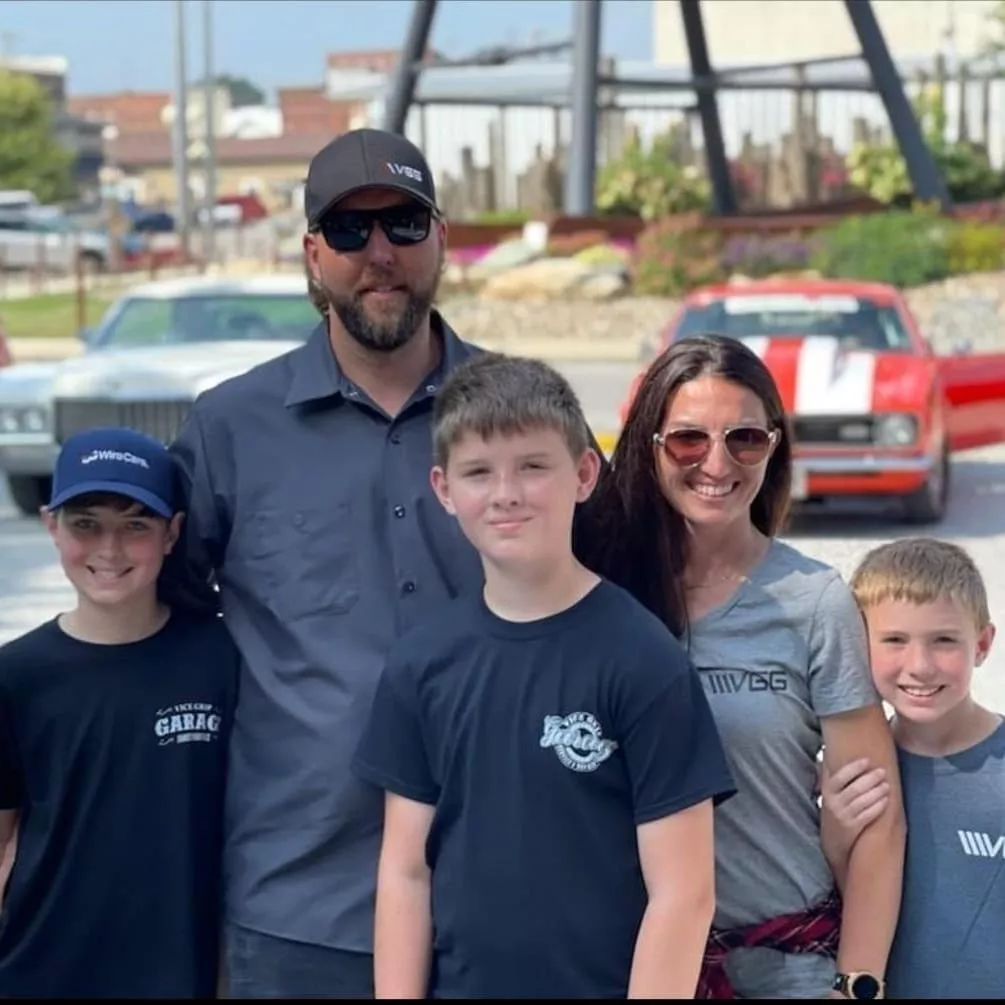 But he never felt right about the sale because of the car's strong link to his dad. He bought the car-complete with a 1500-mile trip from Texas to his Minnesota home, and decided to show the entire journey in 'Vice Grip Garage' episodes. 
Derek said the most difficult part was traveling to get the cars that were offered for sale. He keeps some of the cars that have sentimental value to him and, just in case, the owners want to buy the cars back. Some cars he keeps for himself, and some he gives to his children, leaving the rest for sale, from which he puts the money back into his YouTube channel. He also donates all winnings in their motorsports competitions to several charitable organizations.
He commented about his YouTube channel, "85% of my viewers have something like that (i.e., an old vehicle with huge issues) and are too nervous or gun-shy to start the process… but enjoy watching somebody else do it".
Some Interesting Facts About Derek Beiri
Derek purchased a Chevy Monza race vehicle in 2019. Both he and

 Adam LZ

 create motor vehicle content on YouTube.

Derek Beiri has more than 1.5 Million subscribers on YouTube and 215k followers on his 

Instagram handle

.

His wife's name is Jessica Beiri, and they had three children (3 boys) together. She is also very active and participates in his work. She features in some of his videos on his channel and posts on his Instagram. She is famous, too, and has more than 47k followers on her Instagram account (

hello_jessa_b

).
Derek started creating his own original videos on YouTube in 2018, and his famous video titled "Will It RUN AND DRIVE 600 Miles Home? 1968 Buick LeSabre 400 FORGOTTEN For 26 YEARS!," has more than 10 million views. And his channel has earned a total of 297 million views to date.

His merchandise is available on his official website, vicegripgarage.com.