Katie Van Slyke (aka Katie Van Slyke-Mabry) is an American digital content creator, social media influencer, professional hunter, animal lover, and entrepreneur. She was born on June 6th, 1996, in Nolensville, Williamson County, Tennessee, United States of America. She grew up on a 300-acre farm with her mom and dad, and that's how her love of hunting was born.
Almost as soon as she could walk, Katie was out hunting with her dad, and that is where she does most of her hunting and fishing even to this day. Along with hunting, the outdoorswoman also has a passion for horses and farming as well for makeup. No matter what Katie is up to, she does it in style.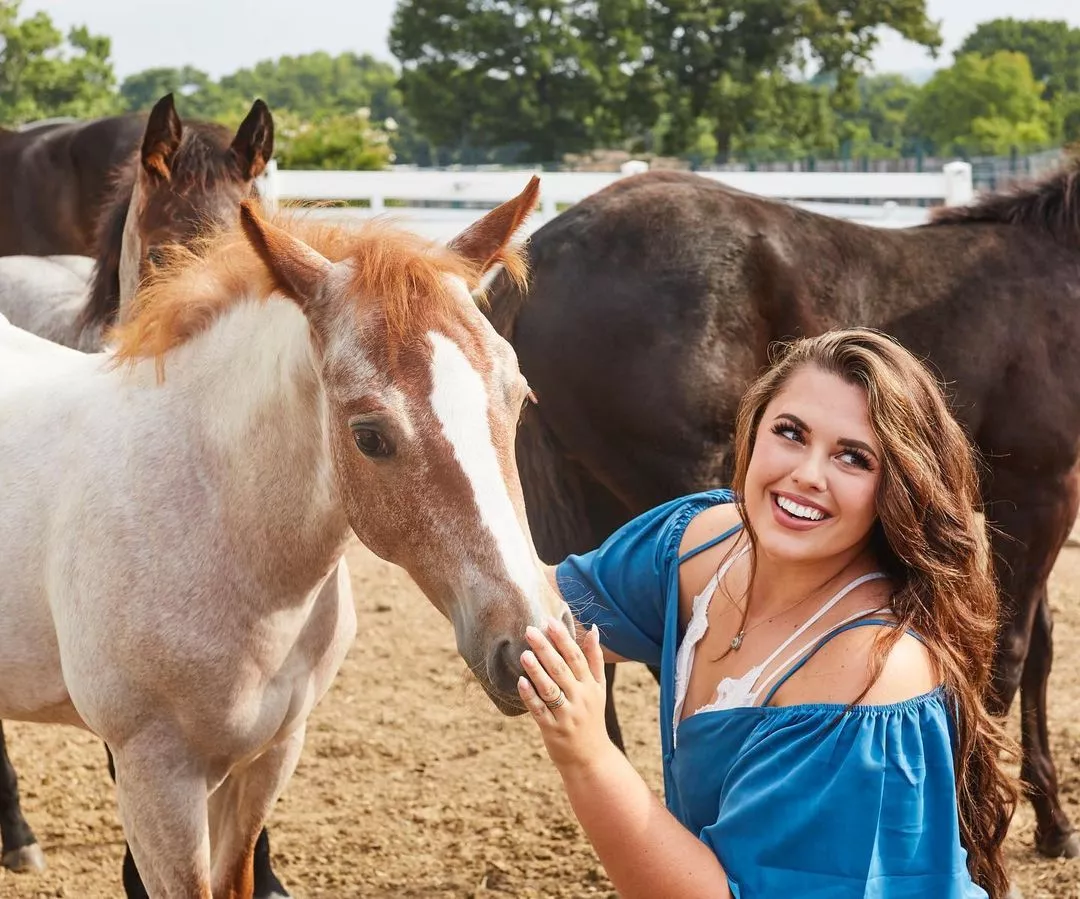 Name

Katie Van Slyke
Full Name
Katie Van Slyke-Mabry
Nick Name
Katie
Gender
Female
Profession
Hunter, Social Media Influencer and Entrepreneur
Personal Life
Date of Birth
6 June 1996
Age (as in 2023)
27
Zodiac
Gemini
Place of Birth
Nolensville, Williamson County, Tennessee, USA
Nationality
American
Ethnicity
Caucasian
Religion
Christian
Education
Graduation in Corporate Management
Almameter
Palm Beach State College, Lake Worth, Florida
Lipscomb University, Nashville, Tennessee, USA
Physical Stats & More
Height (approx)
in feet inches - 5 '8"
in centimeters - 172 cm
in meters - 1.72 m
Weight (approx)
in kilograms - 62 kg
in pounds - 137 lbs
Tattoo(s)
No
Family, Relationship & More
Parents
Father

Mother

Relationship Status
Married
Husband / Spouse
Jonathan Mabry

Children
NA
Net Worth (approx)
$1-3 Million
Email:
[email protected]
Favorite Rifle
Marlin .357 lever action
Favorite Bow
Bowtech Archery Eva Shockey Series bow
Katie van Slyke's parents first met at a barrel race, so we can say that horses are very much in her blood. The family also bred horses and gradually produced horses geared toward Western pleasure. Horses have always been Katie and her mother's favorite bonding activity. For Katie and her father, that shared pastime has been hunting.
Katie Van Slyke began perfecting her shot at the very young age of just 4 years old, practicing with her father. Today, Van Slyke is a skilled hunter, and her social media posts capture her outdoor adventures on land & sea and her work with major brands such as Smith&Wesson, Kryptek, and Bowtech (a technical hunting apparel line and archery giant).
Katie shared: "My dad had me out in the woods or on a fishing boat since before I could walk. There's a picture of me at 8 months old with my first gun that my grandpa gave me (even though I started shooting when I was about 4. My mom and I traveled the country showing horses, but hunting was what I did with my dad."
Katie's career as a digital content creator commenced on August 15, 2017, when she created her Facebook page and started sharing her posts with the world. Initially, she posted photos from her daily life as a hunter and an equestrian.
Slowly, she began posting videos of herself showcasing her talents and vlogs on her outdoor activities, including horse riding. She also shares hunting tips.
Katie uses her life as a social media influencer to introduce kids and women to the sport of hunting and fishing. Even she has many fans in men for her stunning looks. She does the horse thing, the gun thing, the hunting, the fishing, and drives southern guys crazy.
Even though she has a ton of things to be thankful for, Katie says life as a female hunting influencer is not always a bed of roses. She said: "A lot of the time, it's very frustrating because I do get put into a lot of stereotypes. Especially on social media. It is fun, though, the stereotype breaking and getting into an industry where it has been a 'boy's game' for so long!"
As a prominent female hunter with a massive following on social media, she knows how important her influence is and won't settle into any boxes. She strongly supports the Second Amendment, and her motto is: "Just stay true to yourself and don't mold yourself into what you think people want to see."
Katie Van Slyke inspires thousands of women and is not afraid to be herself, even if that means hitting the woods with a shotgun over her shoulder.
"I've made so many female outdoor enthusiast friends through Instagram. Before I started posting about hunting on social media, I had only a couple of friends who hunted, but it's been so cool to be able to connect with girls from all over who share the same passion."
"I tell guys all the time to stop being so strict when getting their girlfriends into hunting. Make it more of an "outdoorsy date" thing instead of something more serious, like when you're going on your own. Most girls who haven't grown up hunting won't care about the score of a buck, but they'll care about having fun and just spending time together."
Some Interesting Facts About Katie Van Slyke
Katie is known for sharing her horse lifestyle with fans online and has named all her horses. She shares outdoor and equestrian products, and because of her active outdoor lifestyle, Katie's collaboration with GrooveLife makes perfect sense. Slyke has worked alongside Groove Life to share new designs to her fashion. She has brought up signature rings and watch bands refined from animal skin.

Her merchandise is also available at katievanslyke.myshopify.com and
She said about her love for makeup: "My indoor obsession is makeup. I love to show my creativity through different looks I can create, whether it's on my face or someone else's face. And these silicone rings and watch bands just go hand in hand with the outdoors when you are working with your hands."
She said, "I don't think my following stems just from the hunting aspect. I try to document everything I'm involved in and love. So that includes hunting, fishing, horses, singing, makeup, etc. I think the diversity of content is what draws people in. "
Katie is married to 

Jonathan Mabry

. They tied the knot on June 21, 2020, after dating for a couple of years. 

She is a believer and kept "God..Family..Hunting..Farmlife" in her bio on TikTok and Instagram.
Slyke is no stranger to bowhunting as she has been doing that for a couple of years now, and she spends a good portion of the year working alongside her husband, Jonathan, to prep for deer season on the family farm.
Van Slyke said: "Now, my husband and I travel around and hunt and keep food plots all year round. There's never an off-season! Even if I don't kill anything, I love being able to bask in the wild awesomeness of God's creation and to be able to share memories with those that I love the most." She continued, "I can't wait to make more with my existing family and one day, hopefully, share this passion with my future children."
She traveled a lot to compete at the Quarter Horse Congress, the NSBA World Championships, and other prominent shows, primarily in horsemanship equitation, showmanship, and trail classes.